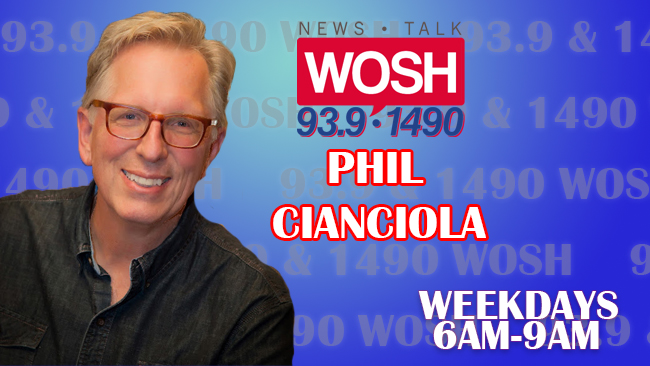 NewsTalk 1490 WOSH is excited to feature the WOSH Morning News with 'The Biggest name in Oshkosh Radio" Phil Cianciola.
MORE ABOUT PHIL

Growing up in Wisconsin, Phil listened passionately to the radio while Eddie Doucette called the Milwaukee Bucks' games, Jim Irwin announcing Green Bay  Packers' games and of course Bob Uecker broadcasting the Brewers' games from good 'ole County Stadium. Phil was hooked on radio at an early age. Phil is a Wisconsin guy, now broadcasting in his sixth decade, something he is extremely proud of.   
A UW-Milwaukee graduate, he began his career at WUWM. He has worked on the air in both morning and afternoon-drive times at WISN and WTMJ in Milwaukee. An award-winning journalist, co-host and host, Phil has been a part of news-talk radio since 1985, almost all of it right here in Wisconsin.  "I believe in LOCAL radio. The magic of radio is the relationships we build with listeners over the air. It's all I've ever done," says Cianciola. "I guess you could say radio is in my blood." 
Not surprisingly, Phil has quite a collection of antique Philco radios. He and his wife Sandy love to travel, cook and spend time in their flower gardens. Phil is also an avid cyclist. Just ask him about that time he got lost in Spain! 
Contact WOSH
Contact WOSH management, Sales & staff with this form.